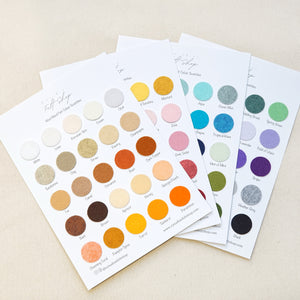 Updated with our newest colours - 100 colours total (Most updated version May 2022)
If swatch cards are sold out, there is a WAITING LIST available.  Please message me with your name and email to be added to the list. Turnaround time is around 1-2 weeks.  Swatch cards are $21.99CAD.

Wool blend swatch cards with 1" circles of our 100 colours available on high quality thick 100 lb paper.