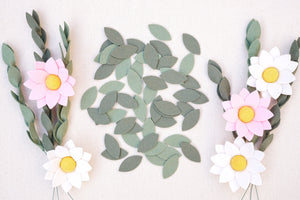 80 felt leaf/petal die cuts - each leaf is ~ 1.6" x 0.75"
Your choice of 2 colours (40 die cuts/colour) with 90 wool blend felt colours to choose from.
 *Colours pictured: sage, olive, linen, pink.  Flowers and leaf stems are both made with the same die cuts.  20mm felt balls used for the centre of the flowers.